Gimbal Mount
Our multispectral multicamera imaging systems include two cameras enabling higher resolution imaging and/or wider spectral coverage compared to a single snapshot multispectral camera. At one extreme, two monochrome cameras with custom spectral filters produce two 4.2MP spectral images. At the other extreme, two 8-band multispectral cameras give 16 spectral images covering the visible and near infrared ranges.
Live Multispectral Downlink
When connected to a Windows workstation, the MSMC-2-2 can record two synchronized 4.2MP images at up to 89 FPS from each camera. The system is capable of recording at frame rates up to several thousand FPS for smaller regions of interest.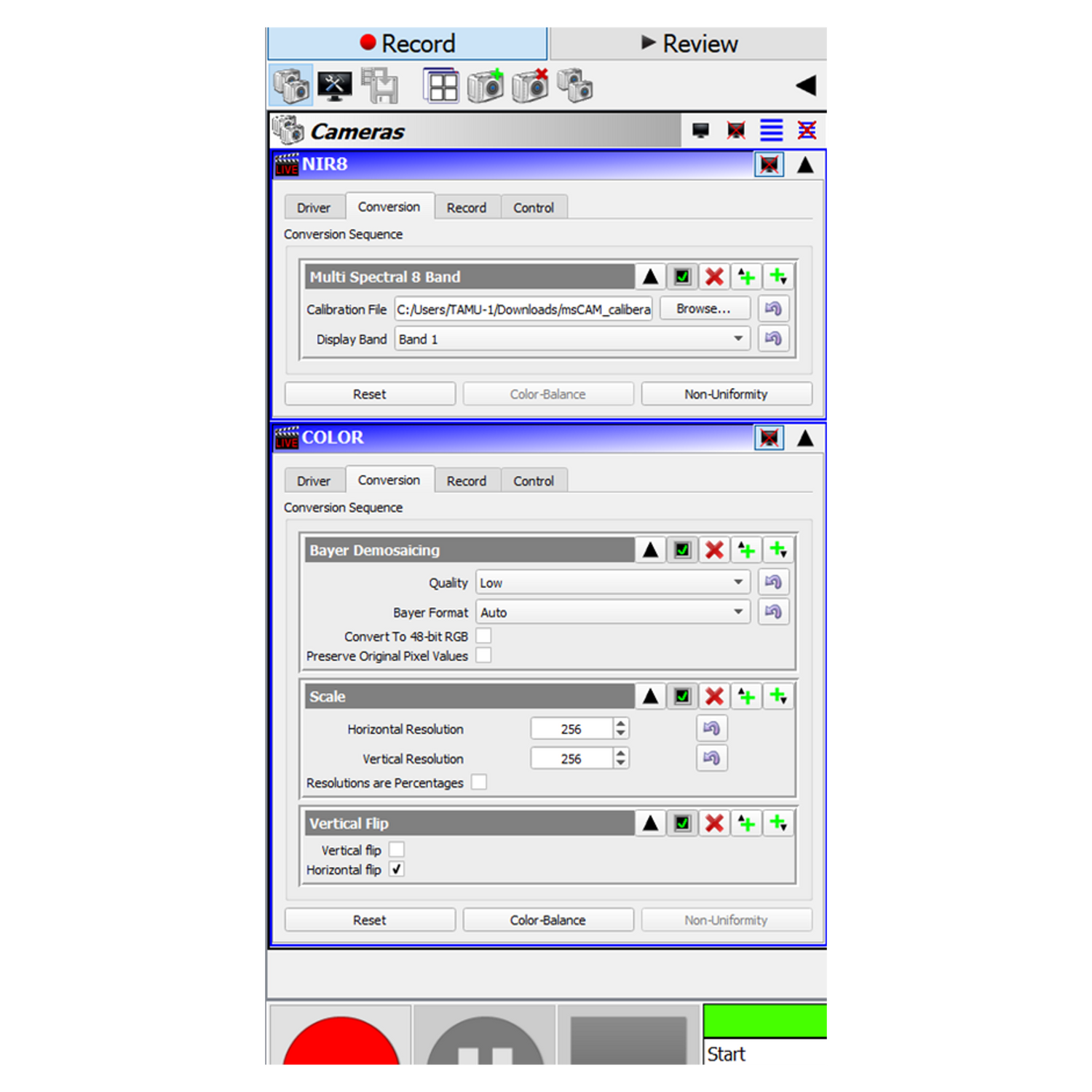 Software Built-In
Easy to use Windows-based multicamera software is provided standard with each system. Configure each camera and capture images and video in real-time to popular file formats. Clean interface with interactive help and user guides. Software supports add-on USB3 Vision, GiGE Vision, and Twain-compliant cameras for complex multicamera experiments.
Image Geotagging
The system is built with anodized aluminium and stainless steel hardware. Heavy duty optomechanical stages ensure the beamsplitter and cameras maintain alignment. Multiple threaded holes are available for tripod mounting. The system is supplied with adjustable stainless legs for table-top operation.
Professional SDK
Power users can write their own multicamera applications for the MSMC-2-2 using the included SDK for Windows, Linux, MacOS, and Raspberry Pi. Support for the Python environment is included.
Flexible Triggering
Cameras are electronically triggered internally to ensure images are acquired at precisely the same moment in time. Cameras are externally triggerable and cameras can simultaneously trigger external devices using the BNC connectors on the back of the unit.
Complete Accessory Kit
The MSMC-2-2 is supplied with a full complement of accessories to ensure users have everything they need to setup and perform in-field adjustments. The system comes with USB3 cables, a universal power supply, professional quality tools, and is packed in a rugged and waterproof equipment case.
Supported by Multispectral Imaging Experts
Our scientists and engineers have years of experience developing multispectral imaging solutions.
Contact us today to discuss your multicamera multispectral imaging application.