Industry Standard Multispectral Imaging
Our multispectral cameras support snapshot operation (some models offer line scan operation) capturing multiple spectral bands simultaneously. Featuring a 1-inch global shutter CMOS sensor, USB3 Vision and GenICam compliance, and rugged construction.
High Speed
Four band cameras record multispectral images at up to 178FPS. Eight-band cameras record at up to 89FPS. Cameras can record up to several thousand FPS for a small region of interest.
Miniature Light-Weight Design
Camera has no moving parts and is compact and light-weight. No additional filters, filter wheels, or tunable filters are needed. The camera weighs less than 55 grams and is 28 mm x 28 mm x 47 mm in size.
Professional SDK
Power users can write their own camera applications using the included SDK for Windows, Linux, MacOS, and Raspberry Pi. Multiple languages supported (C#, C++, VB, Python) with many examples. Image viewer software provided with SDK.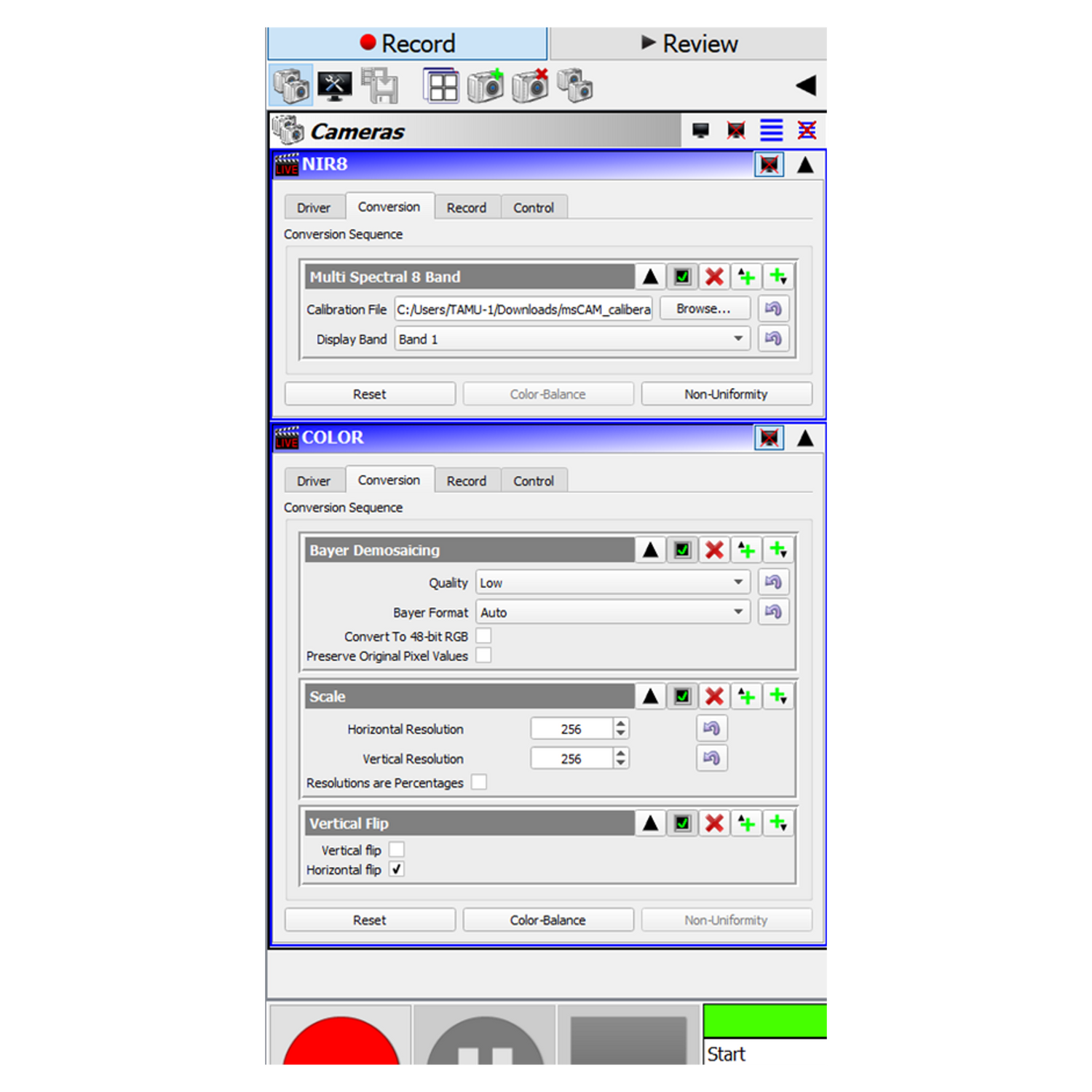 Windows Software
Easy to use Windows-based software (optional). Camera driver installation takes minutes. Simple interface for configuring camera settings. Real-time display of multispectral images. Multispectral images and video are recorded to popular file formats. Easy-to-learn interface with interactive help and user guides.
Flexible Triggering and Strobing
Back-facing Hirose connector with 4 programable GPIO connections. The GPIOs can be configured as inputs or outputs and programmed for trigger or strobe functions. An optional trigger cable is available.
Anti-X-Talk™ Technology
Unique to Spectral Devices multispectral cameras, Anti-X-Talk™ technology works at the filter level and prevents light leakage between individual filters. The result is multispectral images with better spectral discrimination and higher contrast without the need for proprietary post-processing algorithms. Anti-X-Talk™ technology enables users to swap lenses without camera recalibration.
Accessory Kit
Each camera is supplied with an accessory kit containing a USB3 Vision cable, a tripod adaptor, and a rugged and waterproof equipment case for transport and storage.
Supported by Multispectral Imaging Experts
Our scientists and engineers have years of experience developing multispectral imaging solutions.
Contact us today to discuss your multispectral imaging needs.